Folks from Mumbai live a fast life, the amount of stress peeps go through is very immense. To maintain their physical and mental health everyone needs to enroll themselves in yoga.
Borivali is a fully developed part of Mumbai where development is taking place very quickly. From offices to tall residential buildings. Almost everything is out there.
Peeps from Borivali seem very positive about yoga. There are many yoga practitioners in Borivali that need professional help to make their yoga sessions even better.
Today we have got you the 9 best places to practice and learn yoga in Borivali.
Best 9 yoga classes in Borivali
BNB Fitness & Art
With an active presence on social media, this particular yoga studio is pretty much famous for both Borivali and kandivali folks. If one-stop courses ever existed it would be here.
They have an excellent Team of Trainers who will help you get better acquainted with everything our fitness center has to offer. Their trainers are very well experienced in their respective areas.
They Provide Different Fitness Classes, Dance Classes, Zumba Classes, Guitar Classes, Weight Loss Training, Functional Training, Aerobics, Military Training, Kick Boxing, MMA, Marathon Training, Yoga, Power Yoga, Boot Camp, Calisthenics, Body Stretching, Keyboard Classes, Etc.
Address: 3rd Floor Thakur Mall, above McDonald's, Thakur Village, Kandivali East, Mumbai, Maharashtra 400101
2. Yoga Hut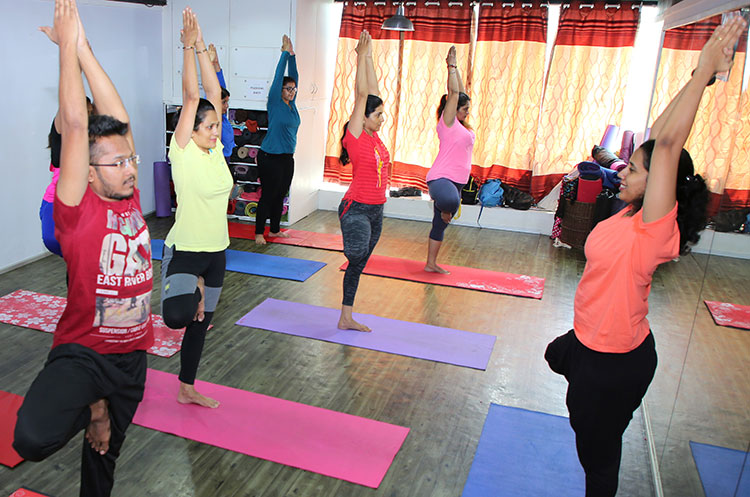 With a barrage of courses to offer this studio has made it on the list. this particular yoga studio is situated in Borivali west. Yoga is something this studio specializes in. with well-trained trainers on. This studio is beloved by most of the residents of Borivali.
With almost every course to offer this studio will be fantastic if you are looking to start your journey in Yoga.
Address: 1, Adinath Towers, Kanti Park Rd, next to D Mart, Chikoowadi, Borivali West, Mumbai, Maharashtra 400092
Yoga has many benefits Lowering stress levels, Increasing body flexibility, Meditation, etc. Yoga leads you on the way to better physical and mental health. To gain the most from it, this can be the best studio for you.
With well-trained assistants who will always support you and clean ambiance. What else can you ask for? To know more visit their website.
Address: Lata Apartment, B 5th Fol, Chitrakoot, Kulupwadi, Borivali East, Mumbai, Maharashtra 400066
4. Yoga 365
At Yoga365, their sole purpose is to enable yoga as a lifestyle to be lived 365 days, 24&7. We believe in spreading the real nature of Yoga and not just restricting it to the practice of asanas.
Their only aim is to provide online tutorials for beginner to advanced yoga practitioners and teach yoga in its totality. With qualified trainers, you can have a great time out here.
Address: 1st Floor, Muthoot Finance, Prashanti Bungalow, Plot no. 368, Besides, Gorai 2, Borivali West, Mumbai, Maharashtra 400092. 
5. BHARTI POKAR FITNESS STUDIO
Bharti Poker Fitness conducts yoga classes for people from all walks of life from working professionals to family managers and everybody in between. They also conduct classes on various subjects like yoga therapy, acupressure, and meditation among others. Join them to learn the science of yoga. With an all-in-one approach, this place is a 10.
Address: Royal complex, 3 Raj Cresent, Eksar Rd, Borivali West, Mumbai, Maharashtra 400091.
6. Aarambh Yoga
Aarambh Yogas's motive is to make people believe that if they start doing Yoga moment, they can change their lives ever. They keep veritably interesting terms to borrow in life. It makes us feel positive, hopeful, strong and concentrated.
their idea is to bring people the positives of enforcing and rehearsing Yoga into their day-to-day life. Yoga is a collaboration of the mind, body, and soul with its fabrication grounded in India, and they are continuing the legacy.
Address: Vrushali Shilp CHS, Chikoowadi, Borivali West, Mumbai, Maharashtra 400092.
7. Transol life
Trandsforlife Yoga Studio has 'one for everyone! From diverse yoga styles to great trainers, Trandsforlife is a studio that's perfect for people who are looking for making fitness a lifestyle choice.
To know more about them visit their website.
Address: 101, 102 Fly Edge, 1st Floor, Above Tirumala Showroom, Dattapada Flyover, Borivali West, Mumbai, Maharashtra 400092.
8. Varsha Group
With an ambiance perfect for your yoga and meditation, the Varsha group is sure to give you a lot of positive vibes. Hatha Yoga, Power Yoga, and Varsha group are some of the yoga techniques they teach. Moreover, you have the option of getting trained by qualified personal trainers.
To know more about them kindly visit them.
Address: Shop No 3 & 4, Brindavan Apartment, Junction Off Link Road & Yogi Nagar Road, Yogi Nagar, Borivali West, Mumbai, Maharashtra 400091.
9. Pallavi Zumba Classes Borivali East
Pallavi Zumba studio believes that fitness is for everybody. They have convenient class timings throughout the day for you to pick your preferred slot. Needless to say, they provide all the different styles of Zumba and yoga.
Making it more trendy as possible the combination of yoga and Zumba is impeccably done here.
Address: New Raheja clubhouse, Estate, Mumbai, Mumbai, Maharashtra 400066.